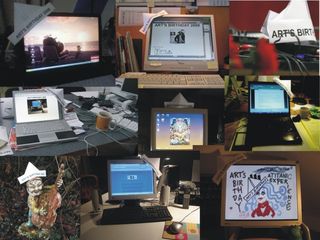 Art's Birthday

Exhibition: January 17 - January 17, 2010
Centre A presents
Art's Birthday
12:00 - 22:00, Sunday, January 17th, 2010
Centre A will open its 2010 program on Sunday, January 17th with a celebration of Art's 1,000,047th Birthday. Featuring cooking performance, video projection, telecommunications-art, and interview, this is the kick-off event for the World Tea Party (Feb 12 - March 21) with free tea served all day by lead artist Bryan Mulvihill. Live streaming of the event can be viewed at http://tiny.cc/centrea , connecting with the Art's Birthday Eternal Network around the world. The event take place all day at the gallery, and you are welcome to join us for tea and birthday cake, as well as a full course bean dinner (after 7pm) to celebrate the Art's Birthday!
"Art's Birthday" is an annual event first proposed in 1963 by French artist Robert Filliou. He suggested that 1,000,000 years ago, there was no art. But one day, on the 17th of January to be precise, Art was born. According to Filliou, it happened when someone dropped a dry sponge into a bucket of water. Modest beginnings, but look at us now. Filliou proposed a public holiday to celebrate the presence of art in our lives. For more events from all over the world, please visit www.artsbirthday.net
Art's Birthday Program
Beaner's Culinary Secrets Revealed!: An Elegant Guatemalan Bean-Based Dinner
Performance by Naufus Ramirez-Figueroa
12pm - 8pm. Food served after 7pm
Like the potato, the bean is part of the victuals that have aided people to survive hard times, and during our current recession it is wise to learn economic cooking secrets from our poor neighbors down south. Vancouver-based artist Naufus Ramirez-Figueroa will make a full course meal, including soup, salad, entre, and desert, from scratch using beans as the main ingredient. A "beaner", in urban slang, is a derogatory and highly offensive name for Latinos who, it is presumed, eat copious quantities of beans. To call people by the food they purportedly most consume, is to highlight their financial conditions. From Vincent Van Gogh's "Potato Eaters" (1885) to Annibale Carracci's "The Bean-Eater" (1584) the economics of food has been a recurring theme in art. It is said that Salvador Dali once called beans a "melancholy vegetable", and certainly it is not a food associated with success.
A Listener's Lab
Hosted by Debra Zhou
Guest speaker Hank Bull
15:00-16:00
A Listener's Lab (http://tiny.cc/soundlab) is a curatorial project by Debra Zhou to investigate and map the sound art presence in Vancouver through interviews and conversations with artists, curators, art historians and musicians. She'll interview Hank Bull on the history of Art's Birthday in Vancouver, it's origin, evolvement and role in the practice of radio/network art.
Vancouver - Yokohama Pre World Tea Party Test Streaming
Organized by Jun Oenki (Artist-in-Residence, Centre A)
with Yokohama - BankART (Location TBC) Hosted by Hiroki Kehara, Kojima Radio
cafe ex.Bodega Hosted by Chikafumi Kawamura, SIX SQUARE BRIDGE,
19:00 - 20:00
http://yaplog.jp/kojimaradio/ (in Japanese)
http://www.sixsquarebridge.com/ (in Japanese)
Art's Birthday Party 2009 at TKU (Tokyo Keizai University)
Hosted by Tetsuo Kogawa (Tokyo) / Jun Oenoki & Bobby Kosnuk (Vancouver)
20:00 - 21:30
http://www.translocal.jp/

For more information, please contact:
Vancouver International Centre for Contemporary Asian Art
Centre A
http://www.centrea.org
日本時間の午前5時から,午後3時ごろまで,カナダ バンクーバーのアートギャラリーCentre Aでは,Art's Birthdayのイベントを開催します。この様子は,Ustreamにてライブ中継されます。
詳細はhttp://www.centrea.orgで
ライブはhttp://www.ustream.tv/channel/art-s-birthday
日本時間の18日正午からは,横浜BankARTで開催中の東京芸大先端芸術表現科の卒業展会場からの中継が,また,12時半ごろからは,下記のArt's Birthday in YOKOHAMA会場からの中継が加わります。
Art's Birthday 2010 at Centre A | Vancouver Centre A opens its 2010 program on January 17th, 2010 with a celebration of Art's 1,000,047th Birthday.From January 17, 8 pm to January 18, 6 am, featuring cooking performance, video projection, telecommunications-art, interview and light-making workshop, this event will be live broadcasted on the Internet at http://tiny.cc/centrea
An elegant Guatemalan bean-based dinner, tea and additional refreshments will be served.
For details: http://www.centrea.org

また,これにリンクする形で,横浜のクラブex.BodegaでもArt's Birthday in YOKOHAMAが開催されます。こちらも,Ustreamで中継されますので,ぜひ,アクセスを。
日本時間1月18日午後12時から午後2時。
URL:http://www.ustream.tv/channel/sixsquarebridge
2010/1/18(mon)
Art's Birthday in YOKOHAMA
@cafe ex.Bodega
START:12:00~14:00
ADM:FREE
[Featuring]
mini
10代の頃からシンセサイザーで作曲を始める。90年代半ばより地元横浜で活動するバンド「ROOT UNDERTONE」にキーボードで参加。2003年には『V.A/Raw material』へ提供した楽曲「Warm」がDJ Kent(Force of Nature)をはじめとする多くのDJから絶賛、Barfout誌のChartなどにとりあげられる。またJR東日本「JR東日本/あったか北東北キャンペーン澄色の冬へ」CMソング等、TVCMの楽曲制作を行う。現在、友人でありアーティストのスウェーデン人Ujinのレーベル『U-Tone』からリリース予定。
http://www.uchunokoe.com
http://www.myspace.com/gz5
Opus Day
猫の束の間のうたた寝を邪魔したくないまどろみのサウンドスケープ。毎回、猫の目のようにスタイルを変えるその節操の無さは賛否両論、さらに調理師としての顔も持つ日曜大工ならぬ日曜電子音楽家。
http://www.myspace.com/thepeaklounge
Totsuka Shy Boy
横浜在住。主に声やギターを使った多重録音作品制作や、エフェクティブな即興ボイスライブ、DJなど。また、バトルホークでボーカルを担当。
Hometown : Yokohama, Japan.SEKIGUCHI used to work in club call "CLUB24 YOKOHAMA". Also he was chief manager of this club. And then, SEKIGUCHI used to play many different type of music with bands, then he is changed solo player when he started to make music. But now he helped to play few different other bands.→battlehawk;/GROBDA/SashisuseGORO/etc...
http://www.myspace.com/totsukashyboy
HARD-OFF
2008年結成。ミニマルとノイズの融合したサウンドを演奏するユニット。タイのフルムーンパーティ、フェスティバル、カフェ、クラブなどで演奏。
We started in 2008. We do mix between noise music & minimal tech. From new sound & control mind.Many time we gig in BangKok Thailand and every month at ex.Bodega.Garage sound plus exotic equiptment.That`s all Hard-off will hook you mood.
YUUKI NEGISHI
SMOKERS REVELATIONのドラム・YUUKIのソロ・プロジェクト。SMOKERS REVELATIONは、2005年、信(Ba)、YUUKI(Dr、Key、Pro)の二人により結成。当初はドラム&ベースとして活動を開始するが、2007年より自作のデジタルトラックを使ったインストゥルメンタル・レゲエ、ダブ・ユニットとして活動を展開。2009年、PRESSURE HIGHのセレクタ−、MASAKIがエンジニアを担当するようになり、その音は、さらに深さを増した。ソロ・プロジェクトでは、鍵盤、プログラミング、ダブ・ミックス等、すべてを1人で操るワンマン・ダブ・スタイルを展開している。
http://www.myspace.com/yuukinegishi
NAOTO BaBa+広瀬成久+上原佐和己
NAOTO BaBa
1978年出生時右手に障害を持って生まれる。切開手術後、6才より5年間リハビリの為にピアノを習う。「TheBlueHearts」に衝撃を受けた後、ハードコアバンドのボーカルを経て、インドを放浪中に出会った古典打楽器「TABLA」に没入。帰国後、ナーダヨギ(音の行者)であるディネーシュ・チャンドラ氏にインド宗教音楽を師事。ループマシーン等、エレクトリックな機材を縦横無尽に操り、ピアニカや声、様々な民族楽器などを用いて、日本人としての音楽表現を模索。最近では、自作の万華鏡「サイケデリック曼華鏡」を製作。 2008年 春より「KAILASH CALLING」として始動。音楽の枠に留まらず、日々進化を求め、表現旅行を続けている。
http://www.myspace.com/kailashcalling
広瀬成久 
ペンキ屋の親方。パフォーマンスグループSAL VANILLAの元メンバー。現在は内なる表現を求め、フィールドを自然の中へと移し、山や森や海にて、"地球をおどる"活動を展開中。「ハードエコ」なる体感的なライフスタイルを提唱中。となっています。
上原佐和己
幼少期より松山バレエ学校にてクラシックバレエを習得。大学在学中、ほぼ全てのジャンルのダンスに触れ、コンテンポラリーの世界へと活動場所を移し今日に至る。現在求職中&花嫁修行中。
Produced by SIX SQUARE BRIDGE
http://www.sixsquarebridge.com
cafe ex.Bodega
横浜市中区福富町仲通4-15国際ビルヂングB1
TEL&FAX:045-242-5553
http://www.ex-bodega.com